Red Roses have long been the ultimate romantic gift, a beautiful touch of luxury to express feelings of love. For many, however, the cost of a dozen red roses is not always in the budget.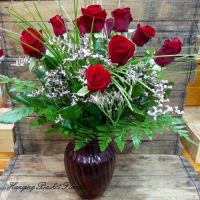 Although a single rose is still a sweet, thoughtful, romantic gesture there are of course other rose gifts your friendly local florist can provide.  One of our most popular floral designs is a bouquet of roses and oriental lilliums – the lilies are showy and fragrant and add that extra touch of glamour to the romantic roses. Another affordable option for roses is to get a bouquet of medium stem roses (40cm length). Roses are priced according to stem length – longer stems being more expensive. While long stem (50 – 60 cm) roses make a much larger, more impressive bouquet the shorter roses look sweet in our little coloured glass vases and make for a lovely 'just because' gift.
Many choose to go for a bouquet of six roses – while this means that the romantic roses can be had for a more affordable price (not always though – while our half dozen rose bouquet is $49.95, many florists charge as much as $65 for six roses!) a bouquet of mixed flowers for the same price would look much larger.
When trying to get a good value flower gift delivered in Rockingham, be sure that you are dealing with a genuine local florist. There are now many online merchants masquerading as real florists to try to grab your order to then on-sell it, minus a commission, to a local florist. Dealing direct is the best way to be sure you will get good value and to keep your money in the local community.
A gift of flowers shows you care, whatever you choose. Your thoughts and feelings can easily be shown with a beautiful bouquet of flowers from your local Rockingham florist.